Come join the CorTexT Research Infrastructure in the greater Paris as a data scientist!
After ten years of existence, the CorText platform has grown. Since its inception, it has been a place that brings together skills in digital methods and computational resources to support the development of researches in Social Sciences and Humanities. It is therefore by nature at the service of a collective. This particular relationship has guided its activities in favour of scientific questions raised by researchers. These fruitful interactions have enabled the deployment of a wide variety of objects (web applications, visualizations, algorithms, etc.) often at the forefront of their technical and scientific fields (text analysis, social media, data science). In return, the platform is feeding more and more work.
If you want to know more about us: visit the "user documentation" of one of our flagship applications or the website of a European project in which we are involved.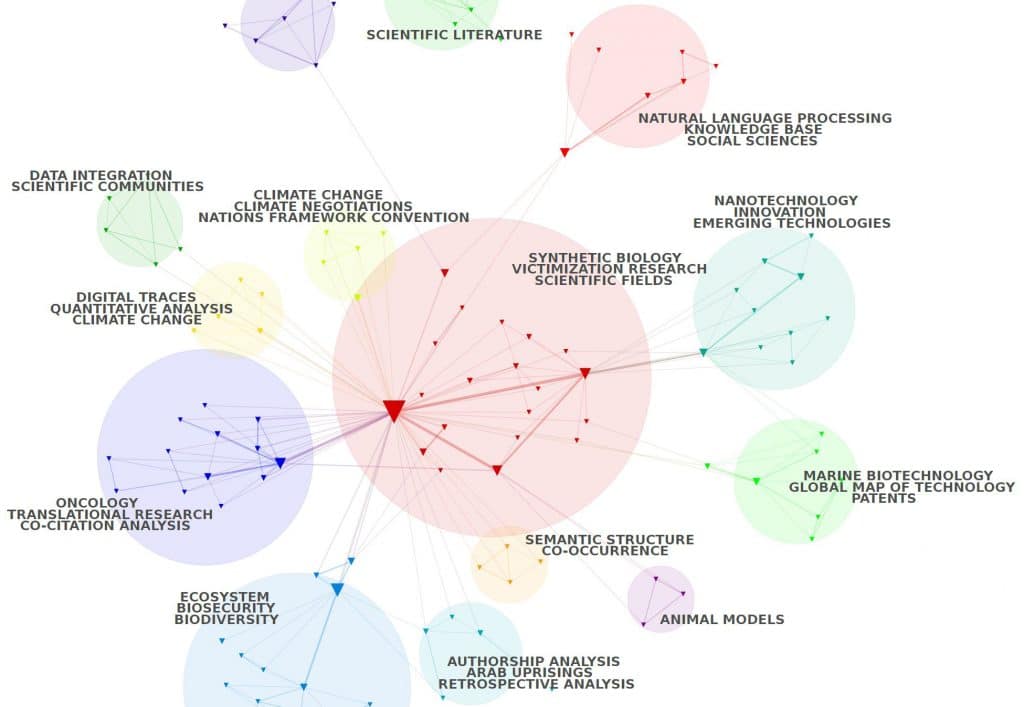 Our users : researchers in Humanities and Social Sciences interested in the analysis of digital traces. More precisely, our colleagues at the laboratory – LISIS – but also many other major research organizations and universities, such as: INRA, CNRS, IT University of Copenhagen, Aalborg University, Columbia University…
We now have users in countries all over the world: France, Denmark, the United States, Brazil, Switzerland, the United Kingdom, Italy, the Netherlands, Japan, China… Find a sample of research works conducted with our tools on a dedicated page.
Join us in this adventure !
Job description and missions
You will work with a diverse team of developers and researchers, and contribute to the evolution of the CorText platform's offer of textual, network and geographical data analysis methods through participation in research projects from the RISIS consortium.
Working side-by-side with top researchers in the fields of science and innovation studies to treat hitherto unseen datasets, develop better models and produce innovative visualizations, leading to insights into how science and innovation take place in society, your contributions will have the potential to benefit entire research communities through the network of partner institutions engaged with CorText and RISIS.
Skills
You have pandas with scipy for breakfast, and your favorite ice-cream flavor is either bokeh or D3. Or maybe not, but you're ready to defend your culinary preferences.
You are confident you can integrate scikit-learn, tensorflow or pytorch in a project, and you have heard of either graph-tool, networkx or igraph. Or vice-versa.
You find it funny that we ought to thank Laplace for a theory named after Bayes.
You understand the importance of open data and data publishing standards, of publishing research analysis as open-source software for review and reuse, and you have a taste for open science in general.
Finally, since we work with European partners and as several members of the CorText platform are non-French-speaking, a good level of in English is souhaitable.
Personal skills
Collaboration with researchers from multiple research fields and epistemic backgrounds welcomes a rich cultural background and appreciation of this diversity – one could call it intellectual empathy.
Moreover, as you'll be working in a diverse team composed of system administrators, backend developers, data scientists and researchers, we'll expect from you a good level of autonomy and organization.
Additional information
Type of contract: Fixed-term contract from one to three years
Location: campus of the Gustave Eiffel University, 25min from downtown Paris by train (Noisy-Champs RER station)
Experience: experience is good, motivation is even better (motivated and qualified: all situations will be examined)
Degrees: let's talk about it! (even if a Master's degree in computer science or engineering, or a Engineer's degree would be a good basis)
Salary: starting from 2000 euros per month, enough to live in Paris and save some. It will rely strongly on skills and experience.
Occasional remote work allowed, 45+ days of vacations (we love to travel!)
Apply or ask for some information

We would be grateful if you could send us:

cv or link to cv with your contact information;
a link to a portfolio/repository if you have one;
a short description with who you are and why you would be interested to join us.

to: jobs[at]cortext.fr